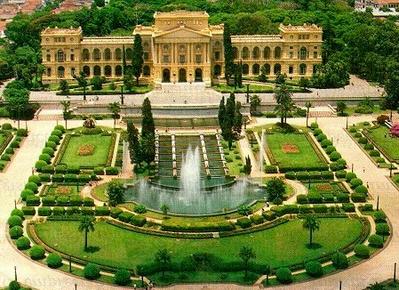 13 Oct 2003 @ 14:12, by Max Sandor

Ipiranga, the place where independence was declared for Brazil, or so they say, is a magical place; one of the top postcard motifs for tourists and locals alike.

At the entrance of palace and park are huge signs: Ïndependence ou Morte" - no tranlation needed !??

Don't know what they did with this park from 1964 to 1985, or so...

The dictators of this world always celebrate independence and "freedom" in the face of those who they suppress.

Not much time to reflect about this for me... have a full program...

(I wrote several paragraphs here but they vanished during the upload, oh well).

Will have to add pictures later. The glorious 40MegaBytes download of NikonView (just to squeeze the pictures out of my Coolpix) doesn't manage to download the pictures from the camera, instead it clutters the laptop diskspace with some nearly unusable programs whose designers deserve the 'Golden Lemon'for stupid user interfaces... (I still love my Nikon Coolpix, tho).

Lots of dire thoughts here, I guess it's too compensate for all the alegria I have here otherwise, hehe...

Am late for the next appointment(s)... will have to run..

Photo from the Museu do Ipiranga site.