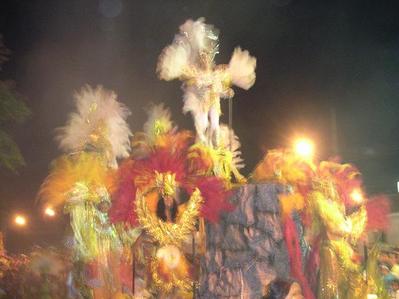 7 Feb 2005 @ 02:43, by Max Sandor

...slaving away in voluntary isolation on a book in Portuguese to appear this month in Brasil, no time to check e-mail or anything else.

But tonight, we got out to mingle in the streets with the Sao-Roquers (that's the Holy Rockers, in plain English).

It's Carnaval time, even the camera had too much wine from the tap (chopp de vinho, as it's called here).

More than 2000 dancers in a parade of 6 Samba schools, much less Samba than in Rio (16 dead in the first 2 days of Carnaval, still counting) or in Sao Salvador, but we enjoy the laid back, relaxed attitude of the people here.

What else could you expect from a town which has a 'Church of the Matrix' ( Igreja da Matriz) in its very center?

Just when you thought you escaped the Matrix, there you are right back in it...


... well, back to work.. will answer all my e-mail tomorrow...

it's past mid-nite... time for the next shift...more extremely hard work.. I think I need a vacation from this vacation...

Sorry folks, break is over now,
OK, OK, I'm comin...