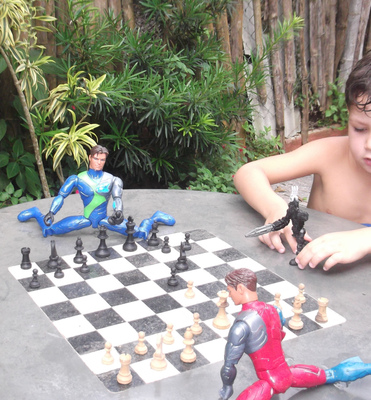 25 Dec 2012 @ 07:02, by Max Sandor

Chess mate in three moves!

"No problem," says Anthony, 5 1/2 years old and counting, "for this, we have transformers, you know?" I didn't.

Patiently, he's teaching me, that "even though transformers are from the Powers of Evil, they can be used to fight for the Good!" And with this, he has the transformer break the black bishop into two pieces. End of game, and I'm going to look for some glue to fix up the poor, broken bishop.

The super-heroes, after taking over Hollywood some decades ago, have found their firm place on the shelfs of toy stores and in the minds of our kids. Joseph Campbell should be content, or not? Isn't dreaming of heroes what makes life worthwhile living? Won't they safe us from certain disaster?

The ancient Chinese thinkers had quite a different vision. Sun Tzu 'Art of War' paints a picture of calculated success over irrational heroism. A world in which the welfare and growth of the population depends on unseen generals using secret strategies and not on lone heroes like in the ideals of Greek mythology which infused and confused the modern Western mind.

Can we have both? Strategy is a systemic approach and Heroism is linear. Do they really mix? Or, in reality, have we become victoms of a sharade of televised shows of super heroes to divert our vision from seeing ourselves become enslaved within a global net of economic and political dependencies?

As Anthony is starting to learn that there are pieces and there are players. he's realizing that what we are made to see are just the PIECES within the game, the images of heroes; but never the hidden PLAYERS. And, as in reality, that what we don't see will win over us, in the end.

If we don't begin to look who's BEHIND the scenes, whose interests are being served, who's stake is being raked in by whom, mankind will continue to degenerate and cultural and intellectual values, no matter how much new technology will be created.

In the end, the super heroes win their battles only in our fantasies and on the TV screens. In life, there aren't any, and, if there were, they rarely would win. Or not?

Welcome to the 14th Baktun!