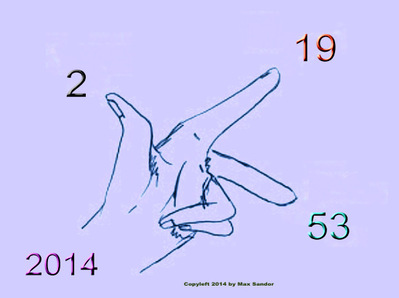 30 Jan 2014 @ 13:15, by Max Sandor

(not for the superstitious!?!)

Whenever people congregate, a geometric constellation is being created. Some of these are more stable than others. Some tend to split up in smaller groups.

Another example are geometric objects. 2 points make a line, everybody knows that, and, of course, you're all too familiar with an Enneadecagon which is sometimes called Enneakaidecagon, meaning it has 19 sides.

For the factors that make up the magic of the number 2014, which, for the coming eleven months, is being steadily invoked by billions of people everyday, yes, every minute, we still need a fancy name for 53, hmmm, how about Tripentacontagon, that was easy...

Still easier is to point the fingers using Fleming's Left Hand Rule. But can you chant that number (53) times without breathing?

Added bonus info, free of charge: people invoke just 14 as well, as in Jan-29-14. That means that Oturupon (14) is the ruling energy together with 2 and 20, Oyeku and Oyeku-fua. Expect that the power structures in the world (and in your family) are finally becoming so obvious that they can't be longer ignored with lots of crashes and confusion in the process.

And, along the same line, everybody born in 1953 will be entering their 61st year. 61, as we all know, is a prime number (actually a twin prime), and its an 'all-or-nothing' energy. But did you know that, since 8! + 1 is divisible by 61 but 61 is not one more than a multiple of 8, and therefore that 61 is a Pillai prime? And that it's in the list of Fortunate numbers? See [link] if you don't believe me. Your chemical element, in case you didn't know yet, is Promethium. As you might expect by now, it's symbol is PM.

Best of luck! You will need it.